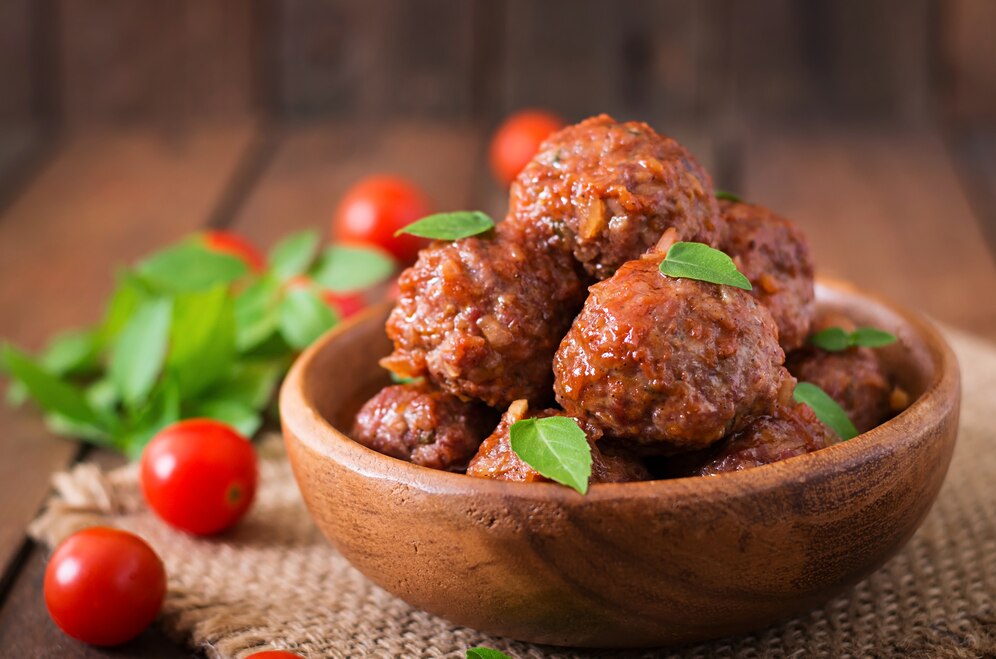 Meatballs are a type of food that is made from ground meat, such as beef, pork, chicken, or a combination of these meats. They are typically shaped into small balls, and can be cooked in a variety of ways, including grilling, frying, or baking.
To make meatballs, you will need the following ingredients:
1 pound ground meat (beef, pork, chicken, or a combination)
1 egg
1/2 cup bread crumbs
1/4 cup grated Parmesan cheese
1/4 cup minced onion
1/4 cup minced fresh parsley
1 tablespoon minced garlic
1 teaspoon salt
1/2 teaspoon black pepper
To make the meatballs, start by mixing the ground meat, egg, bread crumbs, Parmesan cheese, onion, parsley, garlic, salt, and pepper in a large bowl. Use your hands to mix everything together until it is well combined.
Next, use your hands to shape the mixture into small balls, about the size of a golf ball. Place the meatballs on a baking sheet lined with parchment paper.
Preheat your oven to 400 degrees Fahrenheit. Place the meatballs in the oven and bake for 20-25 minutes, or until they are cooked through and golden brown on the outside.
Once the meatballs are cooked, you can serve them immediately with your favorite sauce, such as marinara or Alfredo. You can also let them cool and then freeze them for later use.
To cook frozen meatballs, simply place them in a skillet with some olive oil and cook over medium heat until they are heated through and crispy on the outside. You can then add them to a sauce, or serve them as is with a side of vegetables or a salad.
Meatballs are a versatile and delicious food that can be enjoyed in a variety of dishes, from spaghetti and meatballs to meatball sandwiches and more. They are easy to make at home, and can be a great way to use up leftover ground meat or to make a quick and satisfying meal.